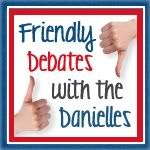 This is my first time linking up with the Danielle from
Happenings at the Harper Household
and Danielle of
We Don't have it all
. I'm not much of a debator but the topic of the week is soooo close to my heart that I couldn't just let it pass without a post. Before I get on with the post, I'd like to mention the number 1 rule of Friendly Debates with the Danielles: 
Please respect each others opinions.
This means no bashing of other bloggers in comments on their posts. Kind words and genuine questions are encouraged. 
TOPIC
Dating/Marrying Outside Your Race: Yay or Nay? What do YOU say?
Well, I'm sure you know what I say, but let me start from my childhood. Growing up, I never saw the difference between black and white… rather I was taught there was no different. Even though I am fully African American, my older sister and I are the only ones that are. My first step father is half white/half Japanese. Yep, you guessed it! He himself was a product of marrying outside your race. So I was raised that it doesn't matter who you love or who you marry. Each person is for you and you only.  Below is a picture of most of my brothers and sisters. Super old picture but you get the point
With that being said, I never went out looking for a specific race to date. I was friends with whomever I wanted to be friends with and that was final. My husband Paul was the first person I ever dated seriously and I never saw his race, I saw his heart. I can't say that we had an easy time of it all but I will tell you that it wasn't all because of the race: we also got married at the age of 19, so all odds weren't in our favor. Times are different though and I think people had more issues for my age then they did with race. I still get the occasional looks, especially when its my husband and my kids with me but I don't mind. I know who I am and who my husband is and race has nothing to do with the love in our hearts.