I can't believe the Listerine 21 day challenge is over. If you don't know what that is, I wrote this post at the beginning of our challenge and challenged some of my followers to do the same. Not only was I doing the challenge but I included my husband and son Hayden. Noah is still learning about brushing his teeth and of course not old enough to use mouth wash so that was a no go.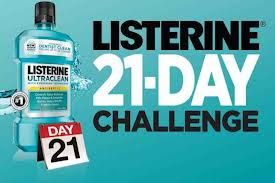 Personally, I saw lots of improvement while using the Listerine tooth paste and mouthwash. But let me start with the tooth brush that was sent. I've never used the brand "Reach" but I think I might start to. We were sent the Reach total care multi-action brush. I love how soft the bristles are and how it floated over my teeth. The back of the brush is also a tongue cleaner. I also enjoyed the access flosser. It reached the hard-to-reach places that I can't always get my hands into. Perfect. As I said before, I never really liked mouth wash but I decided to give it a try again. I still don't like the sensation it gives my mouth, but I love how clean my mouth is after doing everything. I found that I had a decrease in irritation and bleeding in my mouth after changing to the toothpaste and mouth wash. I will definately continue using the mouthwash, thanks to Listerine.
Hayden is hilarious. When we asked him what he thought of the products he got to use, this is what he had to say: "I like the toothbrush because it feels good on my teeth and its easier to reach my teeth in the back. I like the mouthwash because it tastes goo and makes my mouth feel bubblegummy and clean. I like learning how to use the mouthwash so I don't swallow it." He was also excited that his kid's mouthwash had Perry the platypus on it. He loves that show.
Last but not least, my husband: "I really liked the new toothbrush, mostly I like how the bristles have levels so they can get inbetween as much as possible. I also like the flossing tool. It's a lot easier than doing it manually. The one thing I don't like is the combination of the toothpaste and mouthwash is a little harsh on the palette so things taste funny for about an hour or so." I think we might be going back to our old toothpaste to help fix that issue but other than that, the 21 day challenge was a success for this family!
If you are interested in taking the LISTERINE challenge, check out their Facebook page for more information. If you sign up, LISTERINE will donate money to help underprivilaged children. It only takes 3 weeks to form a habit to start a healthy habit with your family as well.
I received products from Johnson & Johnson Healthcare Products Division of McNEIL-PPC, Inc. and The Motherhood as part of my participation in the LISTERINE® 21 Day Challenge. All thoughts and opinions expressed in this post are my own.